France : Etoile de Fréjus-Saint-Raphaël - SC Bastia - 22/04/2011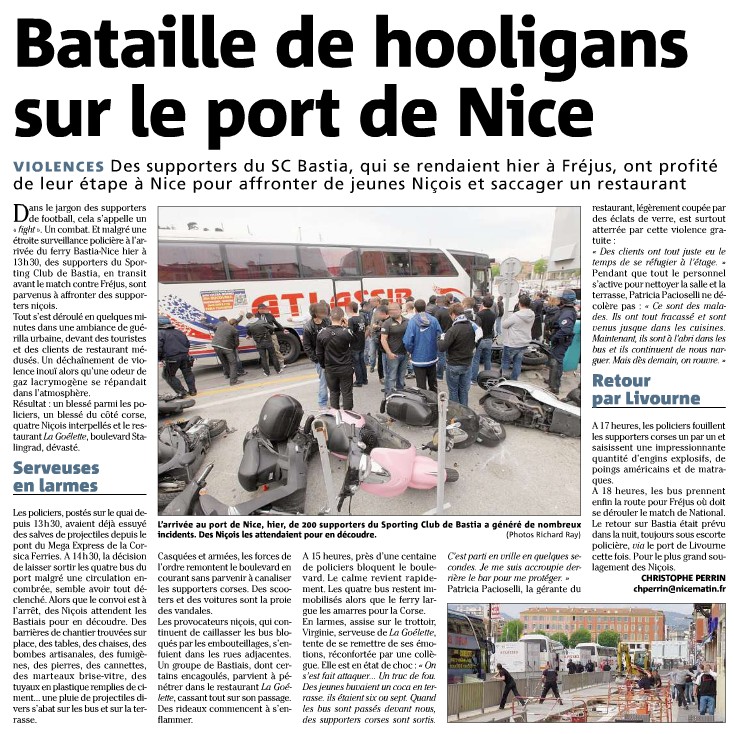 Supporters of the SC Bastia, which went yesterday to Fréjus, benefitted from their game in Nice to face young locals and to ransack a restaurant .
In the jargon of the supporters of football, that is called a "fight". A combat. And in spite of a narrow police surveillance on arrival of the Bastia-Nice ferry yesterday at 1.30pm, Bastia supporters, in transit before the match against Frejus, managed to face Nice rivals.
Very was held in a few minutes in an environment of urban guerilla warfare, in front of tourists and astounded customers of restaurant. An amazing outburst of violence whereas a tear gas odor was spread in the atmosphere.
Result: a casualty among the police officers, a casualty on the Bastian side, four locals arrested and a restaurant devastated.
Translation Underground Fans ©
VIDEO:
http://www.lequipe.fr/Football/breves2011/20110422_173816_echauffourees-a-nice.html

_________________
Give back football to the working class!